The Developing Mind
Kathleen Mojas is a Licensed Clinical Psychologist
with over 30 years of experience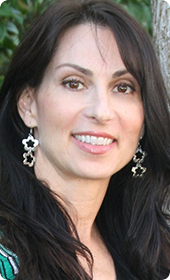 Dr. Kathleen Mojas is a licensed Clinical Psychologist with over 30 years experience working with relationship issues, trauma, depression, anxiety and addictive or compulsive behaviors in her Beverly Hills and Redondo Beach offices.
Dr. Mojas received her B.A from UCLA and her Ph.D. in Psychology from the California Graduate Institute. She is trained in several cutting edge trauma processing techniques, such as EMDR, EFT and Somatic Experiencing.
After years of experience helping clients process negative experiences, beliefs and issues with EMDR, she had had the opportunity to train in London, England with Master EFT practitioners. Integrating this effective new therapy into her work deepened and accelerated healing for her clients.
Dr. Mojas is committed to keeping up with the current brain science and getting trained in the most effective therapeutic interventions. She is skilled in the mind/body therapy, Somatic Experiencing and was recently certified in Rapid Resolution Therapy.
All of these therapies are based on tapping into the body's innate ability to heal & overcome the effects of trauma.
Dr. Mojas studied for many years with Dr. Daniel Siegel, author of the internationally acclaimed book, "The Developing Mind," and a pioneer on neurobiology and attachment at UCLA.
The focus of her work is aimed at reprocessing traumatic events while increasing the sense of secure attachment and connection to others that can help re-build self regulation skills that increase resilience and healthy coping strategies.
Dr. Mojas has presented workshops on these subjects and appeared on numerous national talk and news shows.
In addition, She has contributed articles and quotes to over 25 publications ranging from Parenting Magazine, the Los Angeles Times and the Journal of couples Therapy.
Feel seen, accepted and safe
Everyone Wants to Feel Better
You Just Need The Right Guidance To Get There
The younger we are the easier it is to be traumatized or overwhelmed by a negative experience. From severe abuse to mild trauma, we hold on to these events and store them in the vault in the back of our mind.
If you haven't processed these types of hurtful events, they will continue to show up throughout adulthood in the form of negative habits, failed relationships, depression, anxiety and most of all, in our inability to change.
Over the course of my professional career, I've learned how to zero in on your core issues and identify where your symptoms are coming from.
This enables us to focus on exactly what the problem is, learn how to transform the way your unconscious mind is holding painful experiences and free yourself from the programming of your past.